Take good Pro Care of your glassware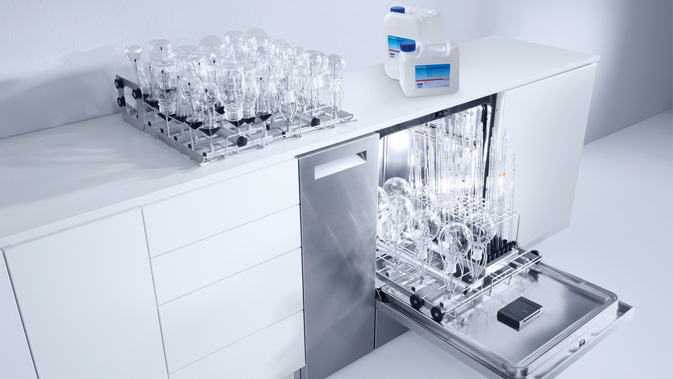 Miele's very own range of laboratory detergents and neutralisers are a key part of the process to help your laboratory run efficiently and effectively.
If you're new to Miele, or are still using alternative chemical choices with your Miele laboratory washer, here are a few points to consider which may help to make your lab life easier.
Designed to work in harmony with your Miele washer
The Pro Care Lab range was created specifically, and rigorously tested, for use with Miele lab washers.This means you can rest assured that Pro Care will help prolong the lifespan of your machine as well as working harmoniously with the technology to ensure the very highest quality of cleaning.
Flexible product range dependent on your needs
The Pro Care Lab collection features both liquid and powder cleaning agents in a variety of sizes – all available in alkaline phosphate-free (AP) or mildly alkaline (MA) options. (powder version for machines with soap boxes)
When it comes to neutralising agents, two options are available. Neutralisers have either a citric acid (30C) or phosphoric acid (30P) base.
Outstanding value for money
Thanks to its concentrated formula combined the integral power of a Miele washer, Pro Care Lab products can be used effectively in very low dosage.
Five litres of Miele detergent can perform 166 wash cycles – an equivalent of less than 23p per wash.
For the acid neutraliser this cost is even less still, meaning you will not find a more cost efficient cleaning chemical solution for your lab washers.
Environmentally economic dosing
The Pro Care Lab liquid products work alongside the smart dosing technology of our more powerful laboratory washer-disinfectors.
The machine automatically consumes the optimum combination and dosage of chemicals for your wash load, reducing risk of wastage and human error.Better for the environment – and for your budget.
Convenient colour coding
To help with easy identification, Pro Care Lab products can be recognised at-a-glance with their simple and bold colour coding.This is designed to prevent confusion, even in the busiest of lab environments.