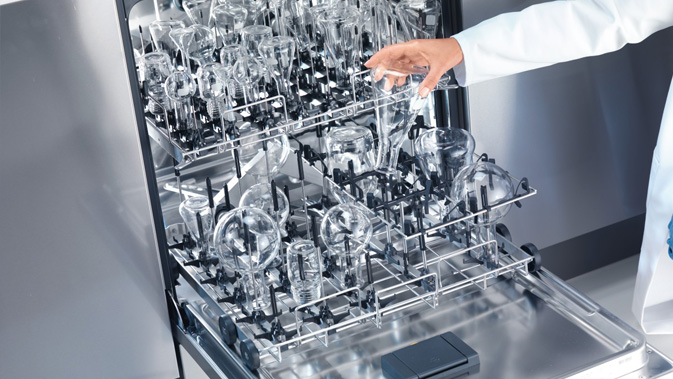 Making your lab life easier everyday
At Miele our mission is to make your laboratory life easier with our wide selection of lab washers and accessories, as well as our customer-focused approach.
When you buy a Miele lab product it's not just a purchase – it's the beginning of a partnership which aims to make your working day as smooth and simple as possible.
Here are just a few of the ways Miele can make your lab life that much easier.
Carefully designed accessories
All Miele lab washer accessories are designed to be as flexible as you need them.
Our new EasyLoad range for under-counter washers makes loading a breeze, allowing you to mix sizes and shapes of glassware in a single wash.
And SmartLoad in our SlimLine washers allow you to load the very smallest items of glassware up to 50-litre flasks.
We can even create bespoke accessories to accommodate any unusual items to be washed.
Professional cleaning power with ProCare Lab
Miele's own detergent, designed especially for lab washers, uses smart dosing technology to automatically deliver the appropriate levels for every wash. This not only minimises any risk of human error, but makes the wash setup process faster and smoother. It also means your detergent supply is used at its optimum level, making ProCare highly cost effective.
Super SlimLine
Our narrowest ever range of large washers, SlimLine is big on capacity but small in footprint, making it an ideal choice for busy labs with limited floor space.
Making use of the very latest Miele technology, SlimLine delivers eco-friendly wash parameters while providing optimal cleaning results. Plus there's a host of simple-to-use accessories to choose from to customise your wash.
Introducing large chamber
Coming soon to the Miele lab family, our new large chamber range offers our most spacious chamber capacity, while using a fraction of the power and water of our previous large-load model.
Take advantage of our latest energy-saving technology while having the peace of mind of a powerful wash combined with the space you need to keep your lab operating efficiently.
Spare parts guarantee
A lab washer is a significant investment and that's why all Miele machines are built to last. We guarantee to manufacture spare parts for all of our models for at least 15 years after they are discontinued. How's that for service?
Partnership peace of mind
When you buy through one of our professional partners you benefit from their wealth of expertise, as well as Miele's. We are truly proud of our long-standing partnerships and the hard work undertaken every day by our sales partners. Whether you need advice on a tricky installation, would like a bespoke accessory or need after-sales care, our partners are there for you for the lifetime of your Miele washer.