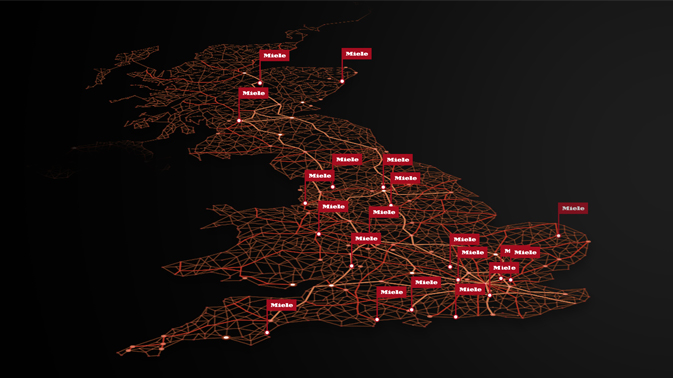 A successful model
The Professional Division of Miele in the UK operates through a network of carefully selected partners, designed to ensure that customers throughout the country receive a consistent quality experience regardless of their location.
The partner model was initiated in 2001, when Les Marshall joined the professional division as sales and marketing director with a vision to set up a new approach. He envisioned a strategy to move away from direct sales and build up a network of accredited partners to effectively cover the length and breadth of the UK.
Commitment to quality
The ambitious proposal came with obvious advantages and risks. The partner programme would establish relationships throughout the UK to deliver more localised ongoing service than the head office could. However, these hundreds of engineers and sales representatives would now also be responsible for Miele's brand. From the outset, it has been essential to the programme's success to ensure comprehensive training and ongoing support was provided so each and every partner was able to support Miele's quality ethos and deliver exceptional service.
The programme also provided an opportunity for partners to sell and advocate a quality brand. However, it has been crucial for Miele to understand partners' needs to be able to provide the tools and guidance they needed to make the model a success. Finance, training, marketing and website design were some of the areas partners identified where they required support, and in addition, Miele provided full commitment that it would not sell directly against them. In return, the partners commit to undergoing stringent training and delivering a quality customer service during and after the sale.
Continued growth
The Professional Division of Miele in the UK has grown every year consecutively since 2001 as a result of the partnership model, which eventually grew to account for 80% of Miele's professional sales. The remaining 20% consists of national accounts, which are assigned a single point of contact for ease.
The model prides itself on its promise not to sell directly against partners, which is where many competitors have failed when trying to replicate it. As the founder of Miele's unique partnership programme, Les Marshall believes this commitment to partners is key its success.
Current sales and marketing director at the Professional Division of Miele, Sam Bailey, commented, "Miele GB continues to be one of the best-performing territories in the world and our impressive and well-established partner programme is essential to this success."