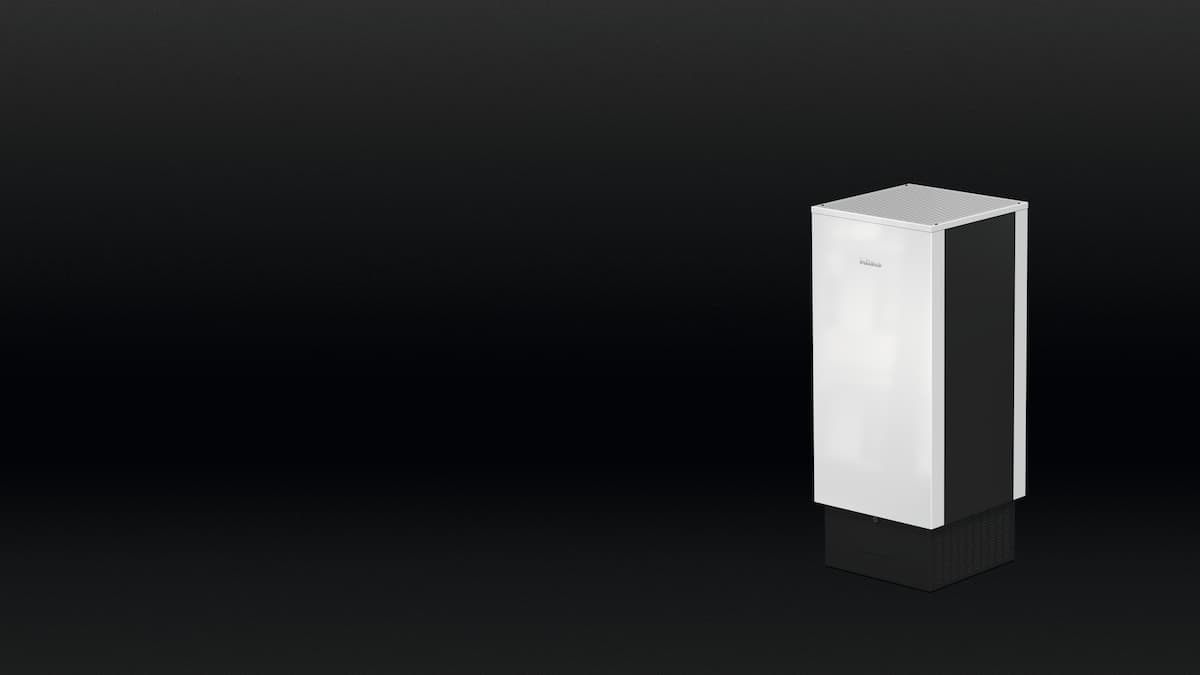 Miele AirControl.
Less viruses. More us.
Maximum filtration. Minimum sound emissions:
The new, high-performance Miele AirControl air purifier.
The new Miele AirControl makes living and working together a more pleasant experience once again. The high-performance air filter affords the best possible protection against viruses, bacteria, fungal spores and other air-borne particles thanks to its 5-stage filtration which includes a highly efficient HEPA H14 filter. Simple, quiet and dependable. This ensures that Miele AirControl offers users technical excellence and exceptional convenience in commercial applications.
Clean air – Made by Miele.
Protection against Covid-19 is also a question of technology.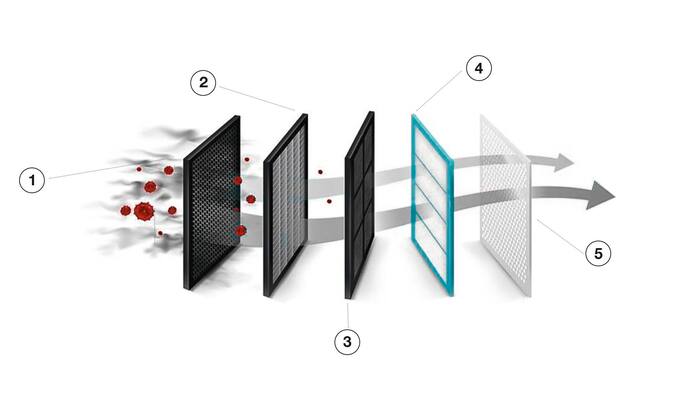 5-stage filtration system
1. Coarse filter: For larger particles such as pollen, lint, etc.
2. Fine filter: For smaller particles such as fine dust.
3. HEPA H14 filter: Rids room air of 99.995% of particles with a size of 0.1-0.3 μm, including micro-organisms such as viruses (including Coronavirus).
4. Active charcoal filter: Neutralises odours.
5. Exhaust filter: Optimises air discharge and ensures uniform air distribution.
Effective protection against aerosols
99.995% fewer viruses thanks to 5-stage filtration.
Whether an individual contracts Covid-19 or not depends largely on the viral load to which a person is exposed. Alongside droplets, aerosols have also been identified as carriers of viruses: These are air-borne and gather and transport particles containing viruses. To avoid this, air replacement plays a central role.
Air purifiers promote air quality and contribute massively towards continuously reducing the viral load in rooms. A precondition for this is high-performance filtration technology, high air throughput and optimum air distribution. Read how Miele AirControl works.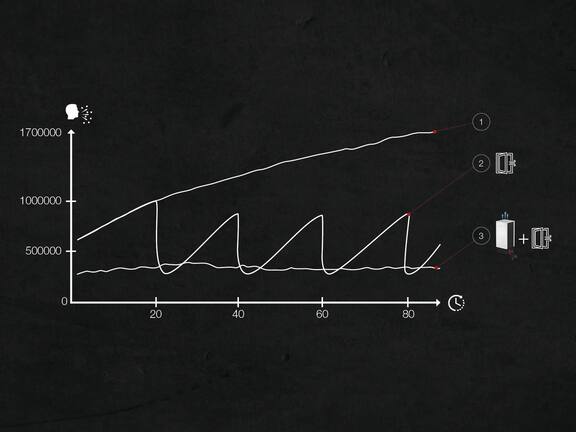 Air displacement - Key to health and safety.
High efficiency confirmed:
A study conducted by the reputable Hybeta hygiene institute based in Münster reduces the aerosol load in rooms with windows closed by a factor of more than three. Opening windows for 5 minutes every 45 minutes combined with the use of an air purifier results in a reduction in the aerosol concentration by a factor of 2 compared with opening windows every 20 minutes alone.
'Scientific research […] has revealed that air purifiers and decontamination systems with a volume flow rate per hour which is at least equal to six times the volume of the respective room together with highly effective Class H14 filters represent a meaningful technical solution in significantly reducing the indirect risk of infection posed by aerosols in classrooms'.
Study conducted by University of the German Army in Munich, dd. September 22, 2020.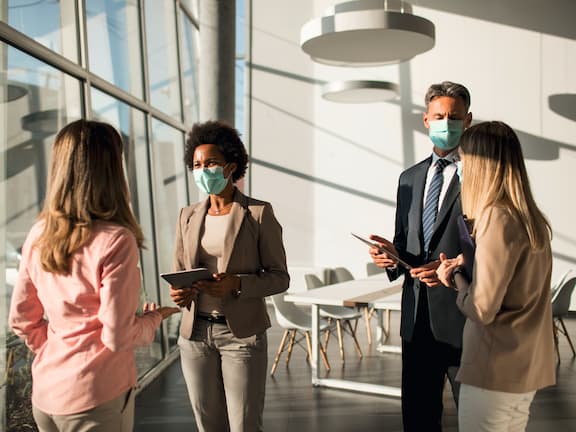 Miele AirControl
Technology with the feel-good factor
The versatile PAC 1080 is a technically mature and sophisticated mobile air purifier for rooms with an area of up to 80 m², offering premium performance in its class. Miele AirControl is also available in the form of the PAC 1045 for rooms covering up to 45 m² or the PAC 1200 for rooms with a floor area of up to 200 m².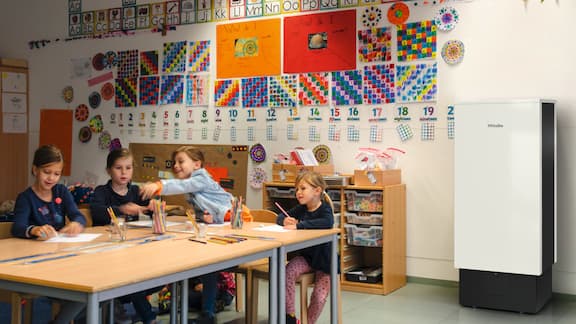 Education system
- Schools
- Child-care centres & nurseries
- Universities
- Private & public educational institutions
- Seminar rooms & lecture theatres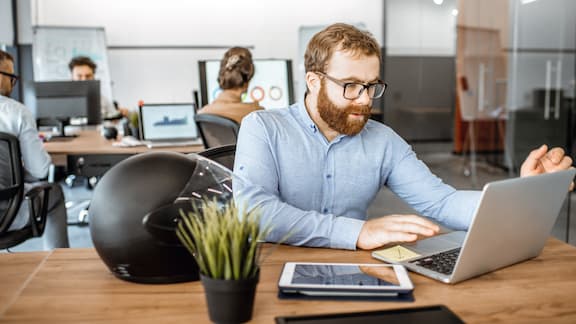 Companies & public spaces
- Offices & conference rooms
- Banks, offices and & local administrations
- Receptions & common rooms
- Libraries
- Places of worship
- Airports, stations, public transport premises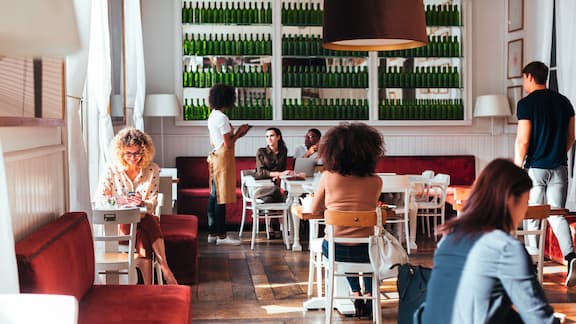 Hotels & guesthouses
- Restaurants, bars, cafés
- Canteens, refectories, micro-breweries
- Discos & clubs
- Hotels & guesthouses
- Receptions & lobbies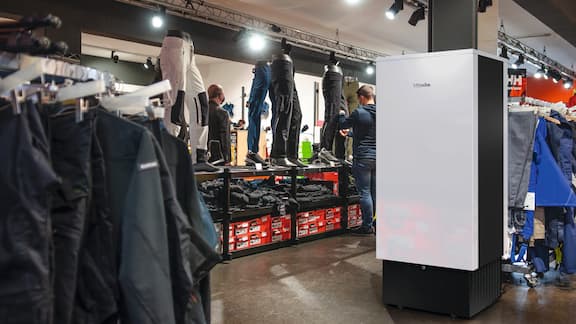 Trade & manufacturing
- Supermarkets & food stores
- DIY stores
- Retail trade
- Food processing businesses
- Car and motorbike dealerships
- Workshops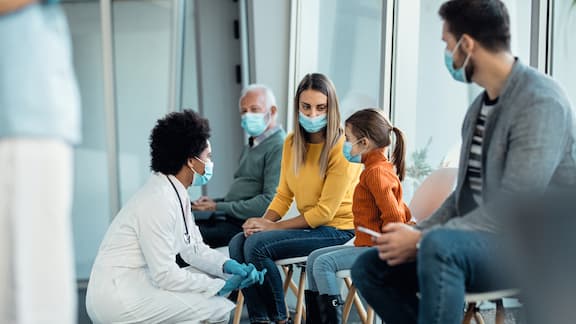 Healthcare sector
- Doctors' surgeries
- Non-medical practitioners
- Hospitals
- Pharmacies
- Care and nursing homes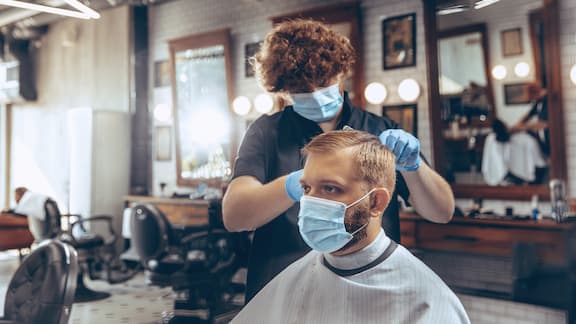 Leisure & beauty
- Fitness and sports studios
- Hairdressers, solariums, studios
- Leisure parks & wellness spas
- Public baths, saunas
- Casinos, theatres, cinemas, concert halls
- Museums
- Stadiums