Roles within Miele - Field Service Technician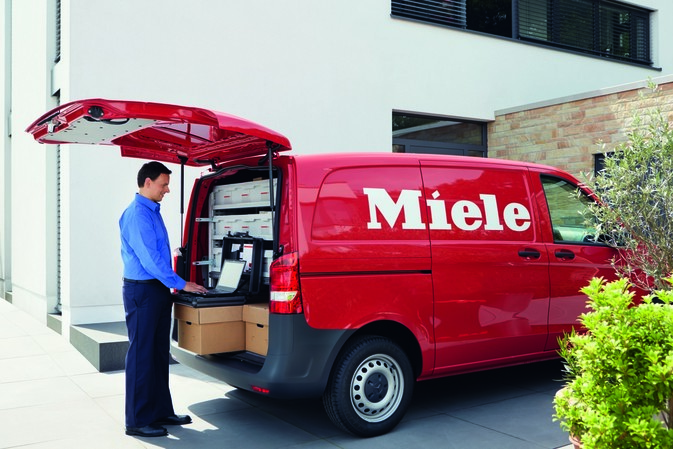 Miele has a respectful, positive and inclusive culture and working for Miele GB is exciting and rewarding. Our Miele field service technicians are an essential and valued part of the Miele company. Our customer service team is award winning and this is shown through the dedications of the whole of the service team; which is made up of technicians, planners, contact centre teams, technical support team, trainers and management.

There are currently 4 Field Service Teams covering the whole of the UK, with a total of approximately 140 Field Service Technicians covering both domestic and commercial customers. The team is directly supported by Chief Technicians and managed by a Regional Service Manager. Established in 1964, the Field Service team has been growing steadily since.

Our Field Service Technicians
Our technicians are multi-skilled, not only technically highly competent, but also possessing premium brand customer service skills, highly IT literate with the ability to manage own spares stock and cash collection. One of the great appeals of working at Miele is working with our top of the line appliances, job security and being part of a valued team at the peak of the profession.
We have technicians with a wide variety of backgrounds, essentially though you will need to have a strong electrical engineering background and qualifications and ideally have some experience of the white goods industry.
New technicians receive extensive training on our high-quality household appliances at our training suite at the Head Office in Abingdon. Technical update training is provided throughout your career.

Benefits
We offer an industry leading salary package, 25 days holiday plus bank holidays, contributory pension scheme and substantial discounts on company products. In addition to this you will be provided with the best quality tools and equipment needed to provide a service of the highest standard.

- Extensive training
- Company laptop and smart phone
- High quality tools and equipment
- Top of the range vehicle
- Annual salary review and salary levels dependent on skills.
- Career progression opportunities within the company (standard progression routes include chief technician, professional technician, trainer or management within the UK or internationally)

If you are interested in joining our team please apply via the company website or sign up for a job alert. We have intakes of technicians throughout the year.

Interested in becoming a Field Service Technician? check our 'Job Vacancies' page for UK vacancies or for international Field Service Technician roles please contact us at service-career@miele.com