Product Detail
GBP
WCR 860 WPS PWash 2.0 & TDos XL & WiFi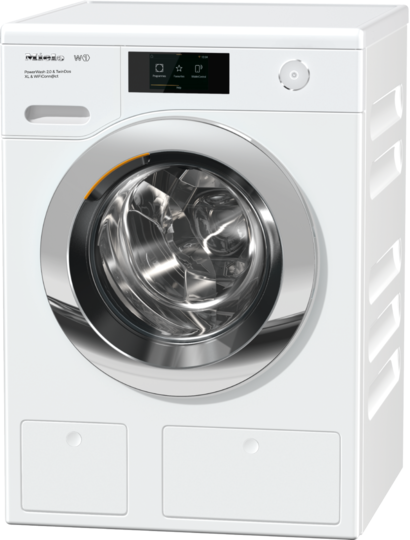 WCR 860 WPS PWash 2.0 & TDos XL & WiFi
MTouch – the appliance is controlled by tapping or swiping
Liquid detergent system at the push of a button -

TwinDos

TwinDos*

Cleaner than ever: automatic dispensing with a revolutionary 2-phase system.

Features depend on model. Images are only examples and used for explanation purposes

Cleaning cannot be faster –

QuickPowerWash

 

QuickPowerWash*

Quick and thorough: clean laundry in just 49 minutes.

Features depend on model. Images are only examples and used for explanation purposes

Perfect supplement for specific applications –

CapDosing

CapDosing*

Dispense special detergents, fabric conditioners and additives using portioned capsules.

Features depend on model. Images are only examples and used for explanation purposes

Smart laundry care with

WiFiConn@ct

Miele@home*

Make your life smart: thanks to Miele@home, you can cleverly network your domestic appliances – for more options.

Features depend on model. Images are only examples and used for explanation purposes
---
Your exclusive advantages
Features depend on model – images are only examples and used for explanation purposes
3 Caps
UltraPhase 1 + 2
Voucher for 5 Miele UltraPhase cartridges
Product data sheet
Show all technical details
2 .
Free delivery on all orders over £15.00. A delivery charge of £6.00 is applied to orders under £15.00. Installation of new appliances and recycling of old appliances is available at an extra charge. For all built-in appliances please call 0330 160 6630 to arrange this.
4 .

For details please refer to our warranty terms and conditions for water protection in the warranty booklet.

7 .

40% more economical than the threshold value (46) for energy efficiency class A+++, depending on the model

9 .

Additional digital offer from Miele & Cie. KG. All smart applications are made possible with the Miele@home system. The range of functions can vary depending on the model and the country.
Subject to technical changes; no liability accepted for the accuracy of the information given. See General Terms and Conditions in footer for additional details.