Miele Range hood models
Powerful technology for your kitchen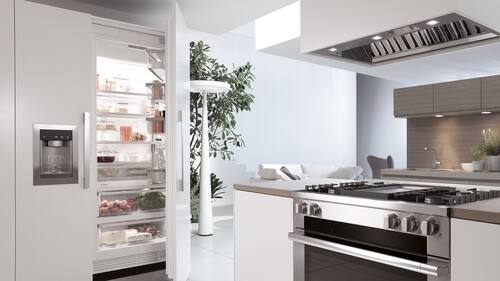 Easy and energy efficient
Recirculation cooker hoods draw in steam and vapours and remove grease and odours by using grease and charcoal filters. The cleaned air is then redirected back into the kitchen. This air circulation takes place within the room. Recirculation cooker hoods need neither vent ducting nor wall or room vents. Recirculation mode cooker hoods are very easy to install and are very often the only option available because of building constraints (for example, in blocks of flats). A recirculation cooker hood is a good choice for installation above an electric hob. Over a gas hob, however, where lots of heat is created, an extraction hood should be installed if possible.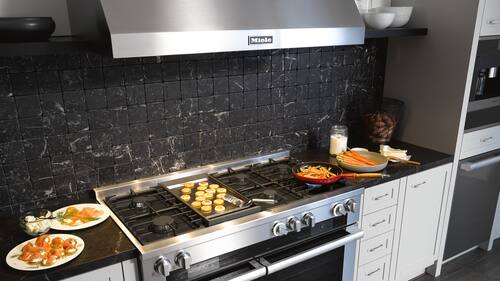 highly efficient
Extraction mode cooker hoods draw the cooking vapours in and remove grease particles with the help of the grease filter. The filtered air is then transported out of the kitchen via vent ducting. Along with the filtered air, any excess moisture and odours are removed from the kitchen. In order to channel the extracted air outside, extraction mode cooker hoods need ducting and a wall or roof vent. At the same time, a flow of fresh air must be provided, for example, through an open window. Extraction cooker hoods are particularly recommended above gas hobs as well as for frequent deep-fat frying, grilling or use of the wok. This type of cooking generates a lot of heat, grease and steam, which these extraction mode cooker hoods remove most efficiently. At the same time gas hobs are provided with an adequate supply of fresh air for combustion.
Features depend on model. Images are only examples and used for explanation purposes
Subject to technical changes; no liability accepted for the accuracy of the information given. See General Terms and Conditions in footer for additional details.