Product Detail
GBP
SYSTEM MAINTENANCE: Due to system maintenance, transactions and bookings will not be possible on October 19th from 4:00 am CET – 10:00 CET.
TWF 640 WP EcoSpeed & 8kg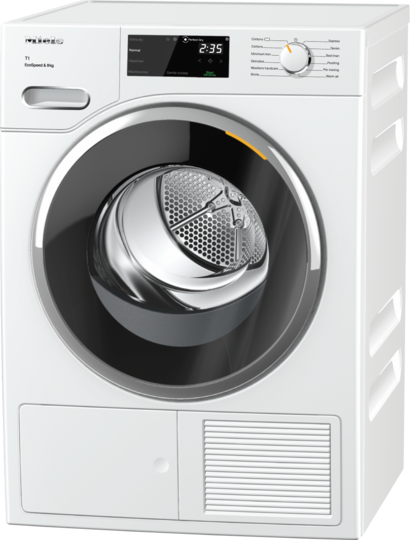 TWF 640 WP EcoSpeed & 8kg
T1 Heat-pump tumble dryer A+++ and EcoSpeed for faster drying combined with maximum energy efficiency. 
Faster drying combined with maximum energy efficiency – EcoSpeed 
Savings for the life of your tumble dryer -

EcoDry technology

Quickly switch between 2 favourite fragrances –

FragranceDos²

Perfect protection for rooms and furniture -

best condensation effect

Easy fingertip operation - DirectSensor
---
Optional Premium Services
You can select the following services for this product in your basket:
Disconnect & Recycle Old Appliance (£20.00)
Tumble Dryer Connection (£10.00)
Stacked Laundry Installation (£75.00)
Building-under kit (£70.99)
For the safe undercounter installation of T1 tumble dryers with straight fascia.
Freestanding Installation (£25.00)
Your exclusive advantages
Maintenance-free heat exchanger
Reliable down to the last detail
Well protected: A filter protects the heat exchanger so it no longer requires cleaning.
Exclusive to Miele
EcoDry technology
Savings for the life of your tumble dryer
The filter system and the maintenance-free heat exchanger keep energy consumption and run time low.
EcoSpeed
Save time and protect the environment
Double bonus: thanks to EcoSpeed, you can dry your laundry up to 40 minutes faster* with optimum energy efficiency
Exclusive to Miele
PerfectDry
Precise drying thanks to mineral sensors
Perfectly dried: PerfectDry detects the mineral content of the water and modifies the drying process accordingly.
Features depend on model – images are only examples and used for explanation purposes
Fragrance flacon
Voucher for a second fragrance flacon
Supplementary products and accessories
1 .
Free delivery on all orders over £15.00. A delivery charge of £6.00 is applied to orders under £15.00. Installation of new appliances and recycling of old appliances is available at an extra charge. For all built-in appliances please call 0330 160 6630 to arrange this.
4 .

During the development phase of the T1 tumble dryer series, Miele tested models and core components in 5000 drying cycles (= 5 drying cycles per week for 50 weeks per year) in various programmes. More: miele.de/20years
Subject to technical changes; no liability accepted for the accuracy of the information given. See General Terms and Conditions in footer for additional details.