Miele freestanding dishwasher features
Miele freestanding dishwashers have a hard-wearing top that can be used as a worktop. As the appliance is not built in, homeowners can simply take it with them if they move and install it in their new kitchen.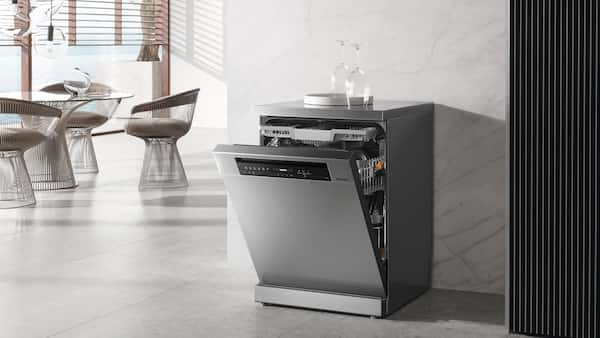 Exclusive to Miele
Patented* AutoOpen drying
For optimum drying of crockery
Optimum drying: the dishwasher door opens automatically at the end of a programme cycle.
Freshwater dishwashers - water consump. from 6.5 l
The most economical Miele dishwashers ever
Minimum consumption: The Automatic programme ensures best cleaning results with minimum water consumption.
Exclusive to Miele
A world first: AutoDos with PowerDisk
Automatic dispensing for excellent results
Automatic dispensing with integrated PowerDisk. Superior cleaning system, unparalleled freedom!
Exclusive to Miele
3D MultiFlex tray*
Maximum flexibility
Stress-free loading: ingenious adjustment options create space in the dishwasher even for small items.
Exclusive to Miele
FlexLine baskets
Intelligent basket design for all types of dishes
Flexibility creates convenience: easy adjustment and flexible loading for the best cleaning results.
QuickPowerWash
Best cleaning in less than an hour
Short programme: best cleaning results for normally soiled crockery in 58 minutes.
EcoPower technology 
Innovative water feed for washing with less water
Saving water and energy: cleverly designed water supply reduces consumption.
Exclusive to Miele
AutoStart
Programmed starting via the app
Programme the G 7000 dishwasher to always start automatically at pre-determined times.
Features depend on model – images are only examples and used for explanation purposes
Gentle treatment of crockery and glassware
High-quality glassware cleaned gently and perfectly
Riedel recommends Miele dishwashers
Go to products
Subject to technical changes; no liability accepted for the accuracy of the information given. See General Terms and Conditions in footer for additional details.