Product Detail
GBP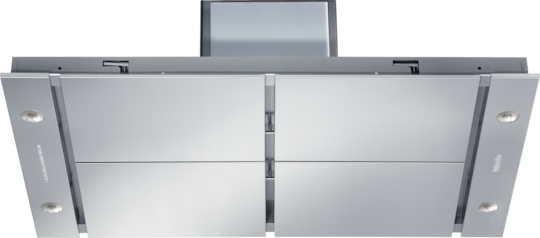 Elegant design - harmonious in the kitchen environment
Variable: edge extraction panels made of glass or stainless steel
Energy-efficient and quiet - powerful

ECO motor

ECO motor

The ECO motor operates with DC current and saves up 70% energy compared to conventional motors. Thanks to this technology, it operates very quietly yet as powerfully as all fans used by Miele.

Features depend on model. Images are only examples and used for explanation purposes
---
Your exclusive advantages
Features depend on model – images are only examples and used for explanation purposes
Non-return flap
Remote control
RF Con@ctivity 2.0 communication stick for KM
Product data sheet
Show all technical details
Whether you are looking to replace an appliance or plan a new kitchen – you will find all the relevant installation drawings for your Miele appliance here. Please note that our products should only be installed and maintained by authorised experts. In the event of queries, please ring us for some no-obligation advice!
Descriptions
DA 2906 (skitse)
1. Indsugningsside
2. Drejelig blæser
udsugningsstuds kan monteres øverst eller i siden i alle retninger
3. Blæserenheden kan positioneres frit. Forbindelse til produktet med udluftningsrør og tilslutningsledning.
4. Ved montering tæt på en væg kræves en afstand på mindst 50 mm.
Vacuums, Coffee-Makers and Accessory orders over £ 15.00 also include free delivery, orders of less are charged at £ 6.00. Subject to technical changes; no liability accepted for the accuracy of the information given. See General Terms and Conditions in footer for additional details