Product Detail
GBP
SYSTEM MAINTENANCE: Due to system maintenance, transactions and bookings will not be possible on October 19th from 4:00 am CET – 10:00 CET.
FJM Allergy XL HyClean 3D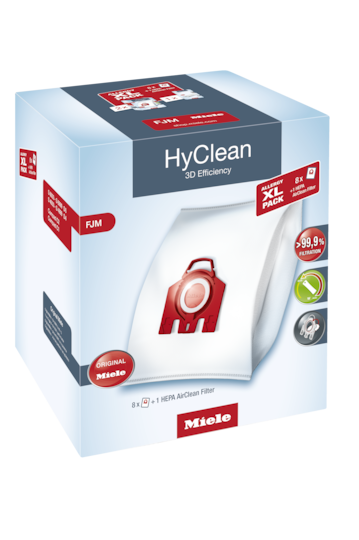 FJM Allergy XL HyClean 3D
Allergy XL Pack HyClean 3D Efficiency FJM 8 dustbags and 1 HEPA AirClean filter at a discount price
Maximum air hygiene with

HEPA AirClean filter

Highest level of efficiency when vacuuming with a low wattage
Longer service life with 3D dustbag technology
Clean bag replacement thanks to automatic bag closure
8 dustbags, 2 motor protection filters, 1 HEPA filter HA50
---
Your exclusive advantages
Quality (4)
Perfect dust collection
Perfect fit of bag and appliance
Thanks to the lock-and-key principle no dust is missed by Miele dustbags.
Exclusive to Miele
AirClean filter system
At last you can breathe easily
The Miele AirClean system filters more than 99.9% of all fine dust particles.
Hygienic replacement
For hygienic replacement of the dustbag
The bag closes automatically when the appliance is opened to prevent dust from escaping when the bag is being replaced.
Dust is securely contained
(Fine) dust remains locked in securely
Thanks to several filter layers (fine) dust that has been vacuumed up cannot escape into the room air.