What is wet cleaning?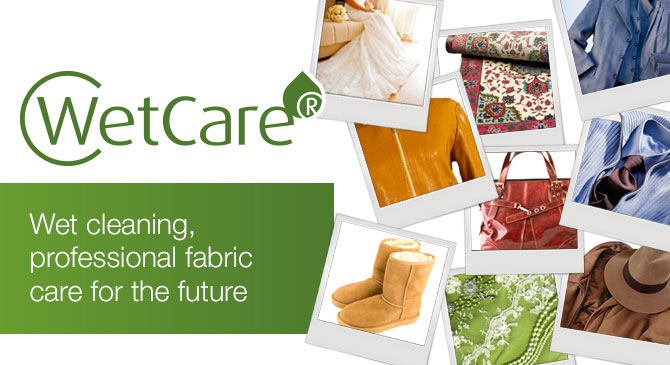 What is Wet Cleaning?
Wet cleaning is a professional, modern, and environmentally friendly alternative to dry cleaning that can care for delicate fabrics that a dry cleaning machine can't; enabling your favourite items to look fresh and last longer.
Since being developed in 1991 by German companies; Miele and Kreussler, Wet Cleaning has established itself as the economical and environmentally friendly alternative to dry cleaning.
It was designed with one defining goal in mind, to create a process for cleaning that could safely and successfully clean and protect all garments and fibres. It did this with a biodegradable detergent as good to fabrics as it was to the environment.
Why it's Better
Wet Cleaning is a process that enables professional cleaners to safely handle 'Dry Clean Only' items, without them coming in to contact with any dry cleaning chemicals and neurotoxins, such as perchloroethylene. By using water and a special biodegradable detergent, your clothes will stay softer for longer and will be much better for your skin, as well as the environment.
How it Works
By controlling a range of factors, such as detergent dosing levels, drum rotation rhythms and temperature to a high degree of accuracy, your clothes are safely cleaned, without any chemical smells. Utilising a high extraction cycle, the majority of any moisture remaining is removed from your garments. Finished with an optimised spin cycle that measures the amount of residual moisture, your clothes are protected from over drying, whilst saving energy.
The benefits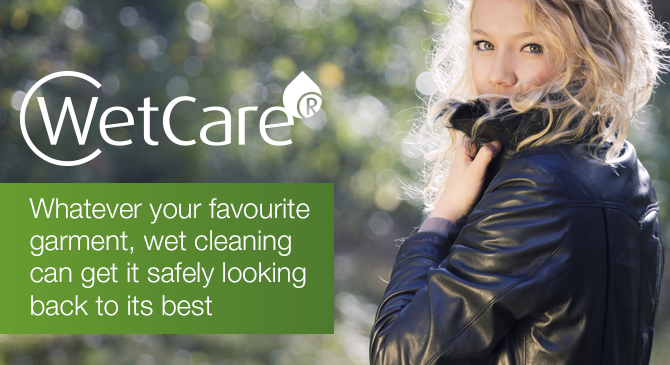 Why use wet cleaning?
Whether it's a wedding dress or UGG boots, wet cleaning is a safe and effective alternative to dry cleaning that guarantees professional results. You may not have considered using a wet cleaning service, but by using water immersion, biodegradable detergents and avoiding dry cleaning chemicals, your favourite items can still get a professional clean and will not only come out feeling and looking brand new, but the gentle wash will ensure they last longer.
What are the benefits of wet cleaning?
Its gentle clean won't damage your clothes
In a survey of 1000 women, 1 in 5 admitted they previously had an item spoiled due to the dry cleaning process and 83% actively avoided dry cleaning their items. With wet cleaning, your clothes will come out softer and last longer due to the absence of harmful chemicals and Miele's patented Honeycomb drum, which gently cleans and cushions fabrics, ensuring they're not damaged during the cycle.
You can clean a range of fabrics
The wet cleaning process allows you to not only wash those items classed as 'dry clean only', but wash traditional laundry items as well. This means you can get all of your important pieces professionally cleaned, without them coming in to contact with harsh chemicals or neurotoxins.
Thanks to wet cleaning, you won't be put off buying the item with the 'dry clean only' label. Wet cleaning can wash items in a safer, softer and more eco-friendly way, including garments such as:
Leather bags
Persian rugs
UGG boots
Wedding dresses
Leather coats
Delicate fabrics
Lace fabrics
Silk garments
Suede garments
Suits
Shirts
All Miele WetCare washing machines can clean a huge range of delicate and natural fibres such as:
It's kind to your skin
By wet cleaning, your clothes will come back as soft as the day you bought them and with an absence of harmful chemicals and solvents, which is great for those with sensitive skin.
Your clothes will stay fresh and last longer
To leave your clothes looking and feeling like new, wet cleaning provides a deep and effective clean that home and dry cleaning can't match. The process uses safe alternatives and a gentle cleaning method to ensure your clothes come out cleaner, softer and smelling fresh. Your clothes will also last longer, thanks to the delicate care taken to ensure they are not damaged or subjected to strong chemicals and solvents during the cycle.
Environmental impact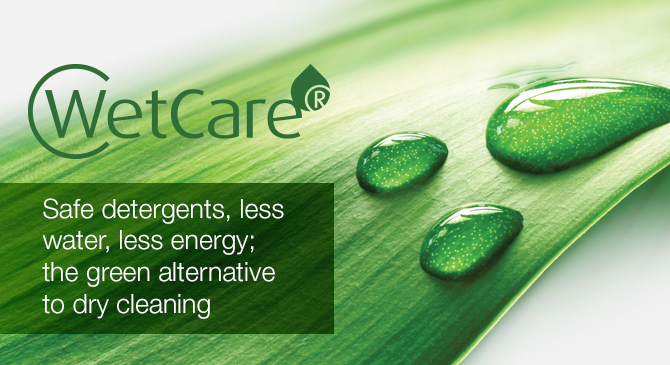 Environmental Impact
With top class water & energy efficiency as well as biodegradable detergents, wet cleaning is a truly 'green' alternative to dry cleaning that is friendly to the environment while not compromising on a flawless standard of cleaning.
When refraining from using strong chemicals, it can be assumed that this compromises on the quality of the wash. With wet cleaning this is not true, our biodegradable detergents provide an excellent clean that is not harmful to the environment.
Chemicals and solvents commonly used in the dry cleaning process can be harmful to both the operator and the customer, so the eco-friendly wash process of wet cleaning ensures there is no air pollution or health risks.
The wet cleaning process uses 30% less water than a traditional wash cycle and can still provide fantastic results at as little as 20c (degrees). This means that the process can reduce energy consumption by 50%.
List of wet cleaners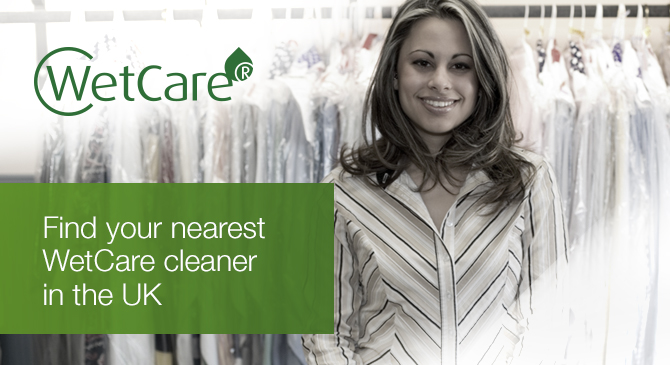 Available Miele Professional WetCare Sites (UK)
London
- Olivia's Cleaners – Palmers Green (368 Green Lanes, London N13 5PE) –
020 8882 9662
- Canonbury Dry Cleaners – Islington (10 Canonbury Pl, London N1 2NQ) –
020 7226 2358
- Spots Dry Cleaners – Islington (264 Upper Street, Islington, N1 2UQ) –
020 7359 2984
- Elias – St John's Wood (St John's Wood High Street, London, NW8 7SH) –
020 3535 8899
- Bogards – 87 Hazelville Road, Archway, London, N19 3NB
- Laundry Republic London
02071933130 'Delivery and Collection Service'
- Orchid & Silk​ - 67 Church Road, Barnes, London, SW13 9HH -
020 8748 6838
- Comet Dry Cleaners - 404 High Road, Wembley, London, HA9 6AL - 020 8902 6515
Cheshire
- Allon's of Cheshire - Queens Court, Sadler Rd, Winsford, Cheshire CW7 2BD
Phone: 01606 593852
- Zinc Drycleaners - 1 Kingsway South, Latchford Village, Warrington, Cheshire, WA4 1LT -
01925 757033 - www.zinclaundrysolutions.co.uk
Sheffield
- Goodman Sparks – 855 Ecclesall Road, Coop Precinct, Sheffield, S11 8TH –
0114 2667 417
Milton Keynes
- Masters Dry Cleaners – 10 Stafford Street, Wolverton, Milton Keynes, MK12 5LT –
01908 317510
Buckinghamshire
- Speedy Iron - Unit 58, Lincoln Road, Cressex Business Park, High Wycombe, HP12 3RG –
01494 445291
Lancashire
- Acorn of Lancashire - 17 Whalley Rd, Accrington, Lancashire, BB5 1AD –
01254 427995
- Timeless Ironing Service - 2-4 York Yard, Derby Street, Preston, Lancashire, PR1 1DT
​07970 972 782
Leicester
- Formally Yours - Unit 14, Faircharm Ind Est, Evelyn Dr, Leicester LE3 2BU –
0116 289 7888
Liverpool
- Prima Cleaners - 62 Coronation Road, Crosby, Liverpool, Merseyside, L23 5RE -
0151 284 4971 - www.primamasterdrycleaners.co.uk
- Prima Master Dry Cleaners - Liverpool Road North, Maghull, Liverpool, Merseyside, L31 2PN -
0151 526 7062 - www.primamasterdrycleaners.co.uk
- Prima Master Dry Cleaners - 646 Liverpool Road, Merseyside, PR8 3LT -
01704 576539 - www.primamasterdrycleaners.co.uk
Lincolnshire
- Pristine - 2 Wharf Road, Grantham, Lincolnshire, NG31 6BA –
01476 568976
Essex
- Mr Elegance - 2 Crescent Rd, Town Centre, Brentwood CM14 5JR –
01277 213 964
- Clean and Green – Upminster (58 Station Road, RM14 2TD) –
01708 227515
- Clean and Green – Epping (176 Epping High Street, CM16 4AQ) –
01992 576732
West Midlands
- Elegant Dry Cleaners - 4 Market Place, Willenhall, West Midlands, WV13 2AA –
01902 607731
- Ideal Dry Cleaning - 4 Greville Court,1665D High Street, Knowle, Solihull, West Midlands, B93 0LL -
01564 730 033 - www.idealdrycleaning.co.uk
Manchester
- BandBox Laundry - 72 Hathersage Road, Manchester, M13 0FN –
016142 55940
- Linen Naturally Cleaner - Unit G, 76 Broadway, Salford, Manchester, M50 2UW – 0161 376 8948
Wales
- Ashburne, 18 Penallta Road, Ystrad Mynach, Hengoed, Mid Glamorgan CF82 7AP –
01443 812751/816618
Isle of Man
- Carnation Cleaners Limited - 58 Bucks Road, Douglas, Isle of Man, IM1 3AD
01624 623 788
Humberside
- Fresh Cotton Clean - 8 George Street, Humberside, Dn18 5ES
070 93302273 - www.freshcottonclean.co.uk
Gloucestershire
- Waterloo Cleaners - 6 The Waterloo, Cirencester, Gloucester, Gloucestershire, GL7 2PA -
01285 651111
- Speedy Iron - Unit 4, Priory Industrial Estate, London Road, Tetbury, Gloucestershire, GL8 8HZ
01666 503900 - enquiries@speedyirontetbury.co.uk
Glasgow
- Lynnes Laundry - 460 Ballater Street, Glasgow, G5 0QW -
0141 429 4888 - www.lynneslaundry.co.uk
Midlothian
- My Beautiful Launderette - 111 Almada Street, Hamilton, Midlothian, ML3 0EX -
01698 640874 - www.mybl.co.uk
West Sussex
- Home & Dry - Unit 1, St James Works, Chichester, West Sussex, PO19 7NN -
01243 543877 - www.homeanddry.biz
Middlesborough
- Rooms Laundry - Unit 3, Terry Dicken Industrial Estate, Stokesley, Middlesborough, TS9 7AE
01642 712012 - www.roomsofstokesley.co.uk
Ceredigion
- Pengarreg Launderette​ - Unit 11, Clos Pencarreg, Panteg Road, Aberaeron, Ceredigion, SA46 0DX
01545574847 - http://www.pengarreglaundry.com
See more