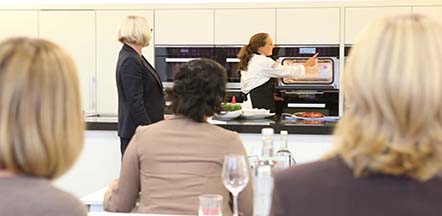 This course is ideal for those owners of a Miele Combination Steam Oven who want to build their confidence in using the appliance.
We will cover steam cooking as well as how to use the appliance in combination mode, cleaning and maintenance.
Our kitchens are now equipped with our newly launched Generation 7000 products, however functionality remains similar to our previous range ensuring that you still learn the features and benefits to enable you to get the most out of your products.
Through demonstration and hands-on cooking, you will create a variety of dishes using this revolutionary appliance.
This course runs for approximately 5.5 hours.
Suitable for the following appliances
DGC7440, DGC7440X, DGC7640, DGC7460, DGC7460X, DGC7840, DGC7840X, DGC7845, DGC7845X, DGC7660, DGC7860, DGC7860X, DGC7865, DGC7865X