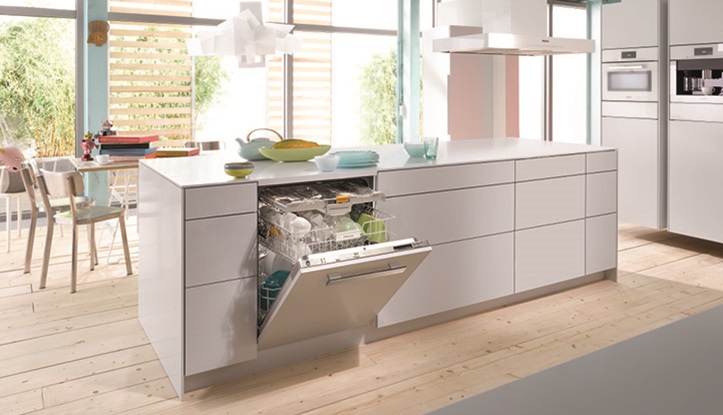 Claim up to £100 Cashback on Selected Dishwashers
Perfect results, low consumption and longevity. Miele dishwashers. For everything you really love.
Register here
Overview
Claim up to £100 Cashback on Selected Dishwashers
Promotional dates: This offer runs from 4th October 2017 until 30th January 2018. All applications must be received by 30th April 2018.
About this promotion: Save up to £100 on these selected Miele dishwashers. Featuring Quick PowerWash for excellent cleaning and drying and saving you money with energy efficiency class A+++ .
The Patented 3D cutlery tray adds versatility, with a centre section which can be lowered and is equipped with a hinged row of spikes for cutlery items, enabling you to fit more in your dishwasher.
The best care for your glasses. Soft water will clean crockery throroughly but has an aggressive effect on glass. To counter this, Miele dishwashers feature Perfect GlassCare technology. It ensures that your glasses are washed gently - so you can enjoy then for many years.
Models included are:
| £30 Cashback | £50 Cashback | £75Cashback | | £100 Cashback |
| --- | --- | --- | --- | --- |
| G4940SC wh | G4940SCi wh | G6620SC | | G6730SC wh |
| G4940SC clst | G4940SCi clst | | | G6730SC clst |
| | G4620SCi wh | | | G6620SCi wh |
| | G4620SCi clst | | | G6620SCi clst |
| | G4722SCi wh | | | G6730SCi clst |
| | G4722SCi clst | | | G6730SCi wh |
| | G4680SCVi | | | G6730SCi hvbr |
| | G4782SCVi | | | G6730SCi obbl |
| | G4990SCVi | | | G6825SCi XXL |
| | G4990Vi | | | G6660SCVi |
| | | | | G6665SCVi XXL |
| | | | | G6770SCVi |
| | | | | G6860SCVi |
| | | | | G6860SCVi |
| | | | | G6890SCVi K2O |
| | | | | G6895SCVi K20 XXL |
| | | | | |
| | | | | |
Products
Conditions